WIRELESS PROJECTS
1. O-MC Signal Research offers total turn-key processes on wireless projects. We provide complete design services as well as installation. Our engineers are all familiar with wireless propagation characteristics, and are skilled at the use of test equipment such as spectrum analyzers and VSWR (Voltage Standing Wave Ratio) testing equipment.
2. In addition to our work designing and installing signal handling networks, we are also currently applying for a patent on a research project directed at locating unwanted mobile phone devices where they are not desired. Examples of these venues are prisons, academic testing facilities, airplanes, some areas of hospitals, and various areas of airports.
3.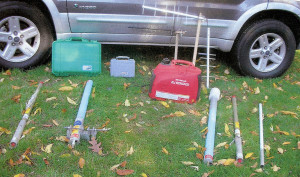 O-MC Signal Research has calibrated test equipment (transmitters and receivers) for performing drive-test of potential cell sites. Our drive-test technicians and engineers will work with your RF Engineering staff or site acquisition staff to test the propagation characteristics of potential cell-site locations.
4. New Jersey State Contract T-0109 (Radio Communications Equipment and Accessories). Under this contract, any New Jersey political entity can use this contract to accomplish their wireless projects expeditiously, and at a lower cost since no timely bidding is required. Projects can be funded by simply assigning a purchase order to the project.